Your Wedding Florist in Edmonton
For more than 15 years, we have served the people of Edmonton, and our reputation has grown as the best flower shop in town. Our shop is one of FTD's top 100 in the world, and one of the most popular wedding florists in the city.
Heather de Kok Floral Design is proudly Canadian owned and operated, and is the only wedding florist Edmonton has to offer who is designated to design the beautiful Vera Wang flower design collection.
But Heather de Kok Floral Design offers more than just incredible wedding flowers! We have the training and experience to fulfill all your floral needs.
Heather De Kok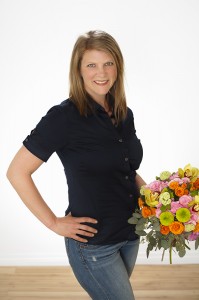 Heather de Kok, AAF AIFD PFCI demonstrates commitment to her industry through continual hard work and dedication. She was officially inducted into the American Institute of Floral Design (AFID) at their national symposium in July 2007. She was the only Canadian florist to achieve this honour from a group of more than 150 applicants worldwide. Heather was inducted into the American Academy of Floriculture (AAF) at the Society Of American Florists 2008 annual convention, and in September 2009, she was inducted into the Professional Floral Communicators International (PFCI), an honour given to floral professionals who effectively communicate during demonstrations and about the industry. Heather is the only Canadian of its 126 members worldwide. In 2008, Heather contributed her talents to two award-winning floats at the Tournament of Roses parade in Pasadena California.
Heather has been a featured designer and judge across North America. She has twice represented Canada in the Gateway to the Americas Cup, most recently in Fort Lauderdale, Florida (2014), where she won first place for the Table Scape competition, and she has already been invited back
for 2016. In 2014, Heather was chosen by Canadian Florist Magazine as one of Canada's top 10 florists under 40.